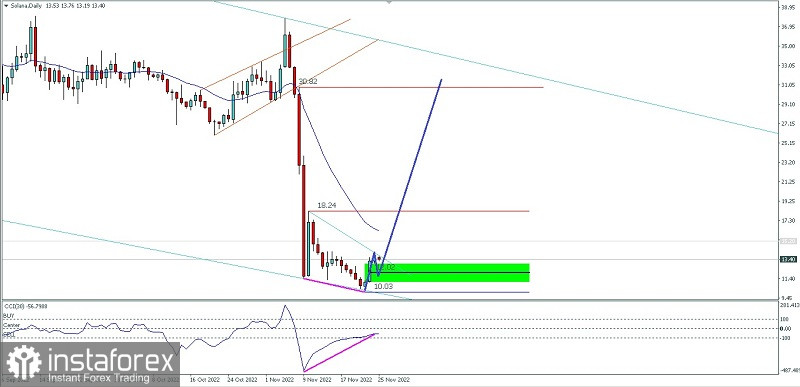 If we look at the daily chart, Solana's Cryptocurrency is clearly still moving in a bearish pressure condition, this can be seen from the price movement that moves in the Bearish channel and is below the Moving Average, even though in the next few days Solana has the potential to be corrected by the upward rally where it this is confirmed by:
1. There is a Falling Wedge pattern.
2. There is a deviation between price movements and the CCI indicator.
Based on the two things above, it can be concluded that Solana in the near future will appreciate to the level of 18.24 as the main target and if the momentum and volatility support it then the next level to be tested is 30.82 but before that Solana also has the potential to go down for a while to gain momentum to rally upwards. where the level to be tested is the 12.96-11.26 area as long as the decline does not break below the 11.08 level, the upward correction scenario is still running.
Relevance up to 02:00 2022-11-30 UTC+1 Company does not offer investment advice and the analysis performed does not guarantee results. The market analysis posted here is meant to increase your awareness, but not to give instructions to make a trade.