NFT marketplace OpenSea migrates to the Seaport protocol. Nansen launches beta version of its Web3 chat app Nansen Connect. NFT's biggest event NFT.NYC 2022 kicks off.
Key Takeaways
Leading NFT marketplace OpenSea announced its migration to Seaport Protocol, which aims to cut down gas fees by 35% and is estimated to save users up to 138,000 ETH in total. This will replace its less-efficient Wyvern protocol and will host new features such as bulk listing feature (list multiple NFTs for sale and only pay for one gas fee), as well as adding more than one payout address for sales and royalties in the future.
Blockchain analytics platform Nansen recently launched Nansen Connect, its very own Web3 messaging app. Currently in beta, this new platform is touted to rival Discord to become the main chat app for NFT and crypto communities.
NFT.NYC 2022 is the biggest event to date this year for NFTs, bringing together some of the biggest artists, builders, and sponsors in the space. Dubbed as the "CES (Consumer Electronics Show) for NFTs", this 4-day annual industry event hosts a series of panels, workshops, pop-up galleries, and innovative showcases curated for NFT traders and enthusiasts.
LooksRare recorded -5% and -9% decreases in sales and transactions, respectively. OpenSea's sales and transactions were also negative, at -85% and -84%, respectively.
Crypto.com NFT in the Spotlight
Calling NFT traders and creators: All collectors and creators can continue to enjoy a reduced service fee of 1.99% for sales of collectibles on Crypto.com NFT. This promo ends 30 September 2022.
Asian musician/artist Jay Chou and Paris Saint-Germain Football Club are proud to announce the launch of "Tiger Champs", a unique collection of 10,000 algorithmically generated Tiger Champs NFTs, celebrating PSG's 10th championship win. Buy the drop to become a part of its community and unlock unique experiences and exclusive rewards with the 'Mandapop King' Jay Chou and PSG.
Highlights
Transaction Volume Benchmark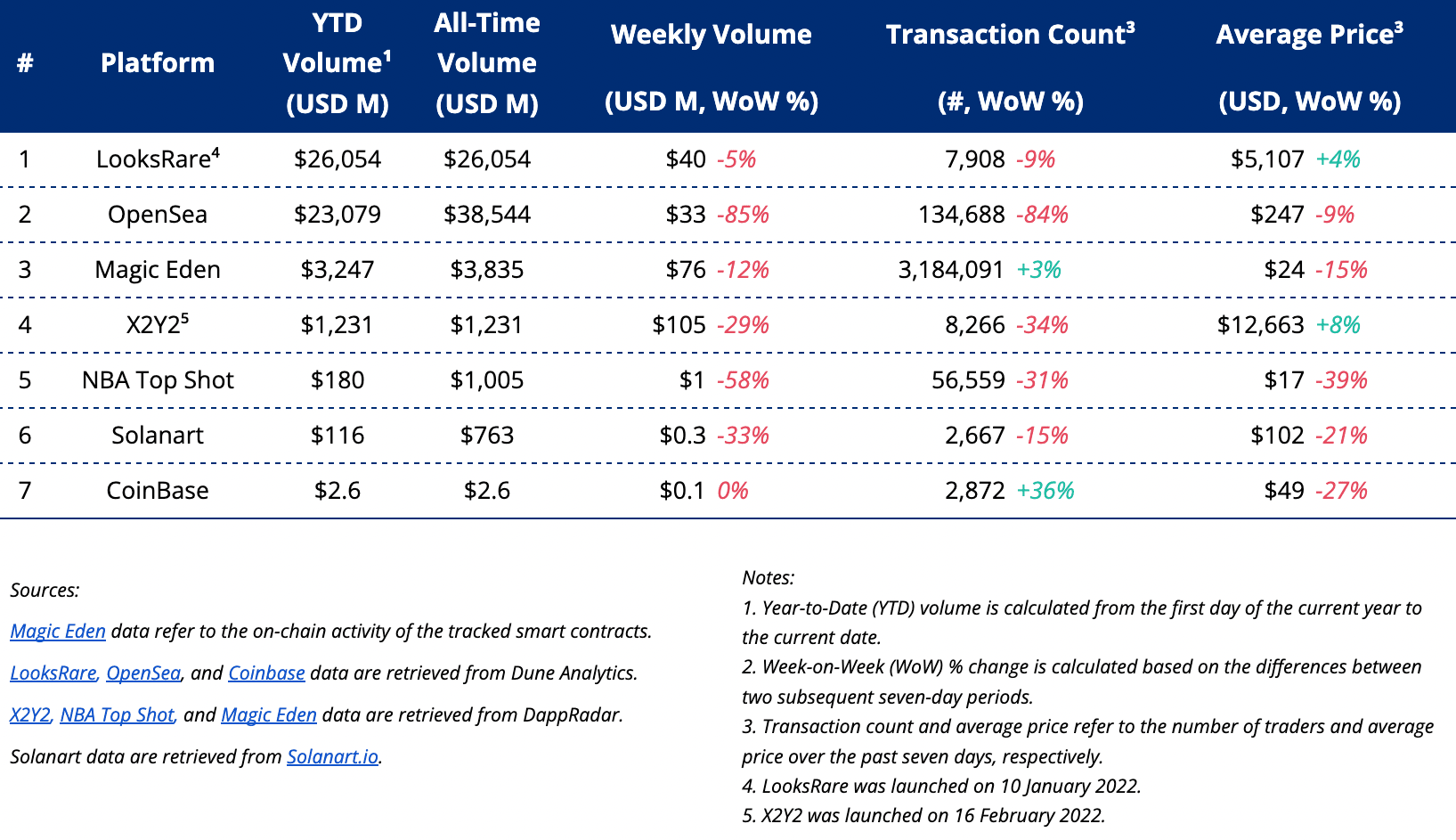 ​​Top Collectibles

The following chart shows selected top NFTs and their historical floor prices.
Upcoming NFT Sales
The following table shows the top upcoming NFT sales and a sample of their art.
Top Artists
The following table shows selected top artists (by sales volume on each platform) and a sample of their art.