Moonbirds take the NFT space by storm by pulling in over 69,000 ETH in just 4 days. Rarible adds support for NFTs minted on Solana. Japanese social messaging app Line releases NFT marketplace, Line NFT.
Key Takeaways
Crypto.com NFT in the Spotlight
The much-anticipated race in Miami is finally making its debut from 6 to 8 May 2022. As the official title partner of the inaugural event, Crypto.com is excited to present the first-ever 'Miami Minted' NFT collection, available exclusively on Crypto.com NFT. Collectors of this NFT collection will stand a chance to win* tickets to the hottest race of the season and limited-edition art prints signed by the artists themselves. Plus, collectors who own all eight 'Track Segment' NFTs will be airdropped a bonus 'Full Track' NFT.
'The "Bull Run Crew' is a collection of 10,000 3D dancing bulls that have been let loose on the blockchain. Armed with their own music and some super funky dance moves, the party never stops with the BRC. Created by artist & music producer Enchanted Future, this is the first PFP collection featuring full-body, 3D animated characters set to original music – with different dances, songs, and over 300 unique traits. Leading the crew is an elite group of ultra-rare legendary bulls, including the king of them all: the Golden Bull.
'BeatHeadz' is the PFP project for all music lovers on Crypto.com. Created by artist Phil Lumbang and musician Aloe Blacc, each of the 10,808 BeatHeadz in the collection is a digital collectible avatar with a unique combination of headphones, hair, eyes, clothing, and accessories.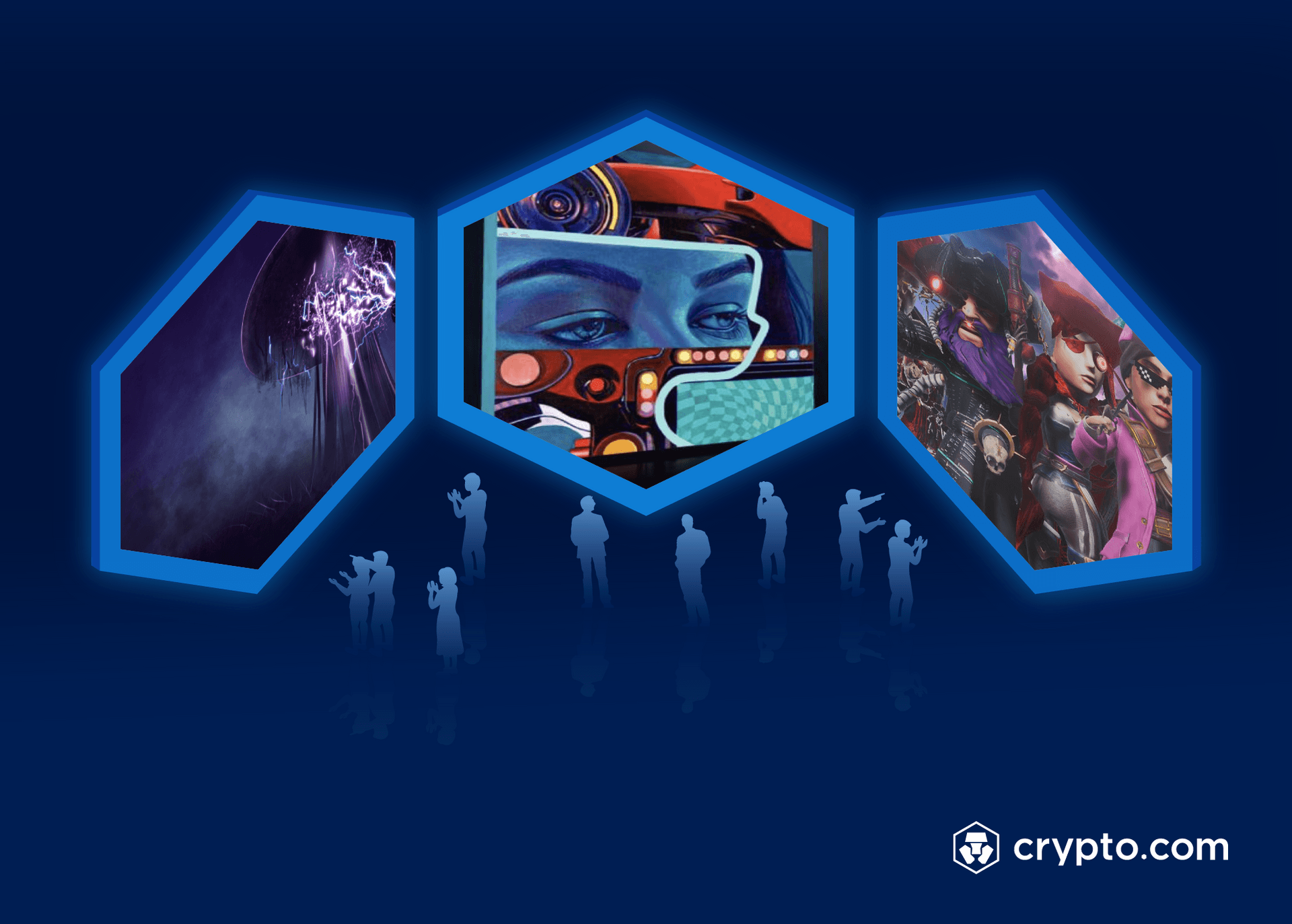 Highlights
Transaction Volume Benchmark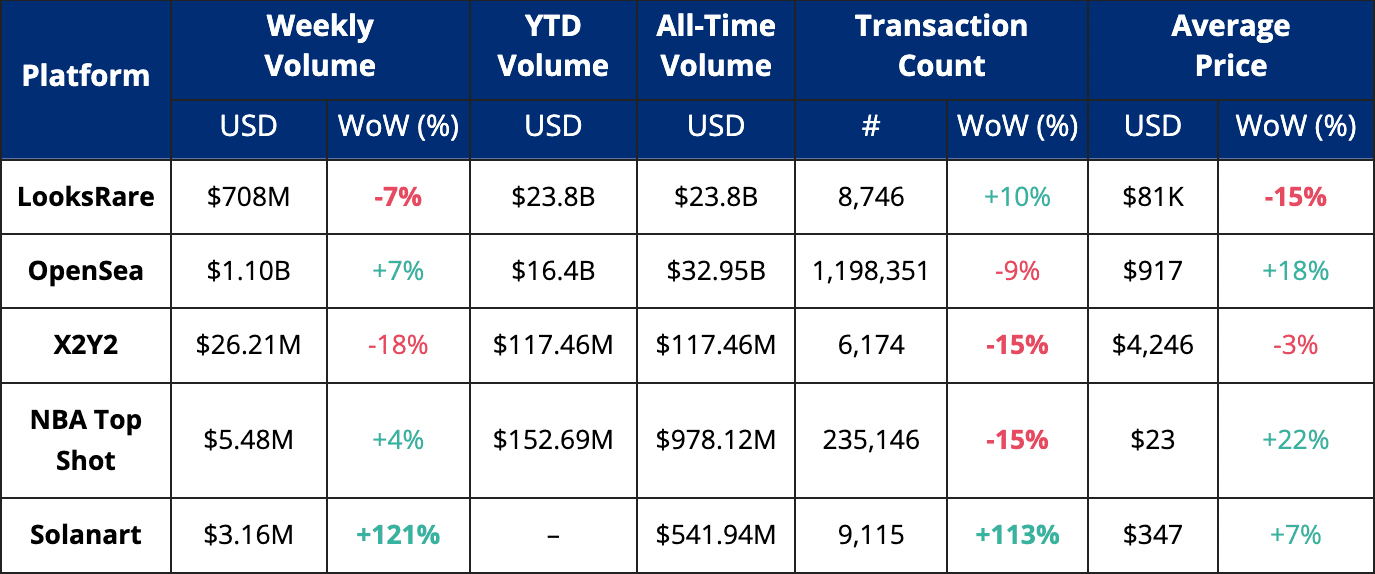 Top Collectibles
| | | | |
| --- | --- | --- | --- |
| Project Name | Weekly Sales (USD) | Transaction Count | Number of Buyers |
| Moonbirds | $308,749,542 | 14,086 | 10,877 |
| Mutant Ape Yacht Club | $54,188,172 | 670 | 511 |
| MurakamiFlowers Seed | $47,107,031 | 2,785 | 1,867 |
| Bored Ape Yacht Club | $36,708,878 | 143 | 109 |
| Beanz | $18,990,487 | 1,232 | 783 |
* Collectibles data from
CryptoSlam.io
The following chart shows selected top NFTs and their historical floor prices.
Upcoming NFT Sales
The following table shows top upcoming NFT sales and a sample of their art.
| | | | | | |
| --- | --- | --- | --- | --- | --- |
| Project Name | Sale Date | Price | Items | Market Cap | Sample |
| Country Ape Squad | 1 Jun 2022 | 0.3 (ETH) | 10,000 | 3,000 (ETH) | |
| Dragon Futurist | 25 Apr 2022 | 2.5 (SOL) | 7,777 | 19,442.5 (SOL) | |
| CrazyKarts Society | 26 Apr 2022 | 3.5 (SOL) | 5,000 | 17,500 (SOL) | |
| NextMoon | 30 Apr 2022 | 2 (SOL) | 8,230 | 16,460 (SOL) | |
| Chilled Camel Club | 29 Apr 2022 | 1.5 (SOL) | 10,000 | 15,000 (SOL) | |
Source: crypto.com