Crypto Industry News:
"Metaverse" is one of the main contenders for the 2022 Oxford Word of the Year, the Oxford University Press (OUP) announced, in a sign that this particular word is becoming concrete in the public mind.
Oxford University Press, the publisher of the Oxford English Dictionary, announced three final words or terms for 2022 on Tuesday: Metaverse, #ISstandWith and Goblin Mode.
"In the word 'Metaverse', we see a conceptual future brought into the vernacular in 2022," OUP wrote.
Metaverse occupied a prominent place in public discourse this year. The renaming of social media giant Facebook to Meta, and CEO Mark Zuckerberg's subsequent doubling of the company's focus on virtual reality, even as stocks crashed and the company laid off thousands, kept the metaverse in the first place for both investors and the general public.
Meta also spearheaded the creation of the Metaverse Standards Forum, which includes tech giants Microsoft, Sony, Intel, and nearly 200 others as core members to "support interoperability standards for the open metaverse." This means that the metaverse has been in the announcements of virtually every tech company in the last 12 months.
Notably absent from the list of Forum members is Apple, which seems to be hiring to build its own meta world to compete with Meta.
Technical Market Outlook:
The ETH/USD bounce had been capped at the level of $1,231 and the market reversed back inside the range. The intraday technical resistance is located at $1,231 and $1,1288. The momentum is weak and negative, so the move down might be continued towards the level of $1,104 or $1.073. The intraday technical support located at the level of $1,174 had been broken as well. Please notice the fact, that Ethereum lost more than 37% in November alone as the crypto winter continues and any up move should be considered as the upward correction during the long-term down trend.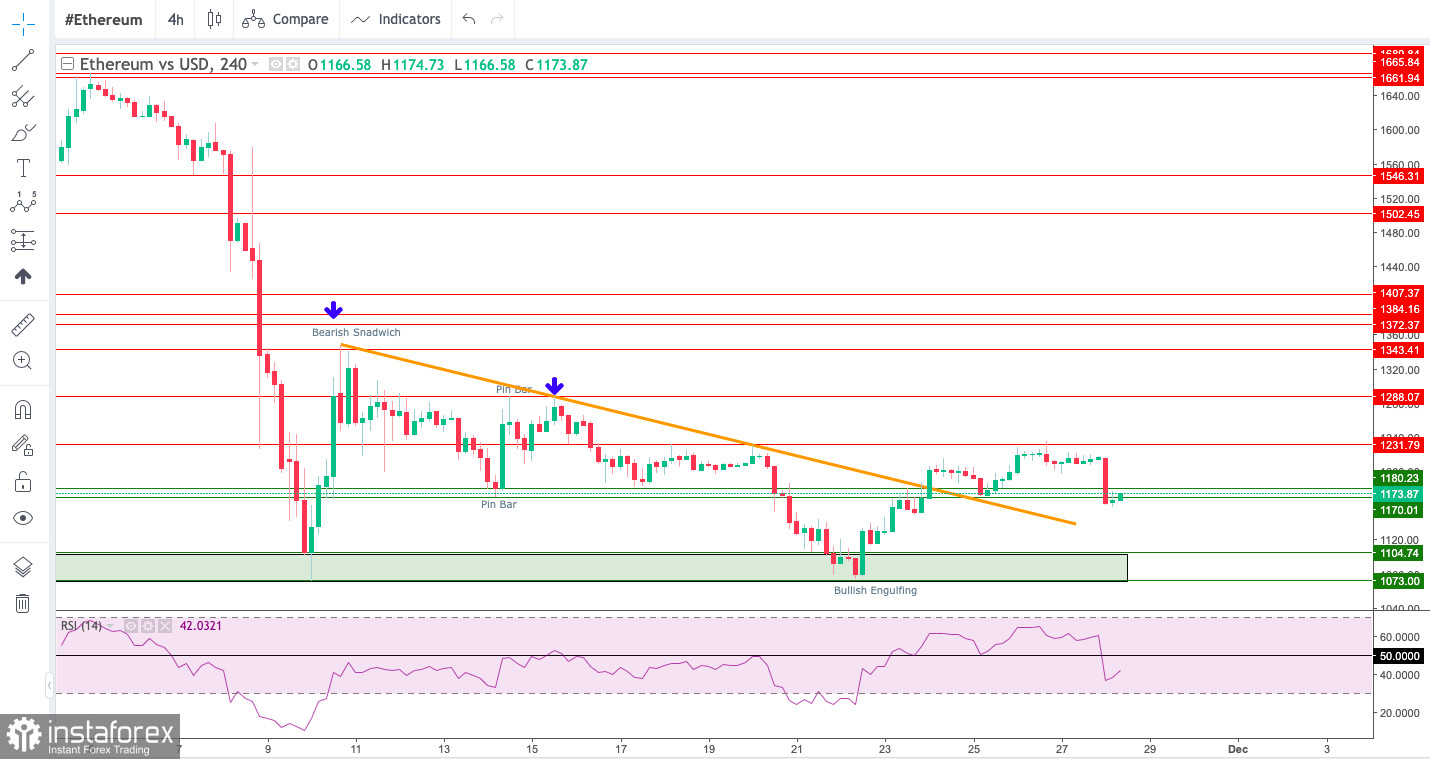 Weekly Pivot Points:
WR3 - $1,253
WR2 - $1,213
WR1 - $1,190
Weekly Pivot - $1,173
WS1 - $1,150
WS2 - $1,133
WS3 - $1,093
Trading Outlook:
The Ethereum market has been seen making lower highs and lower low since the swing high was made in the middle of the August at the level of $2,029. The key technical support for bulls at $1,281 was broken already and the new yearly low was established at $1,074. If the down move will be extended, then the next target for bears is located at the level of $1,000.
Relevance up to 10:00 2022-11-29 UTC+1 Company does not offer investment advice and the analysis performed does not guarantee results. The market analysis posted here is meant to increase your awareness, but not to give instructions to make a trade.