Relevance up to 13:00 UTC+2 Company does not offer investment advice and the analysis performed does not guarantee results. The market analysis posted here is meant to increase your awareness, but not to give instructions to make a trade.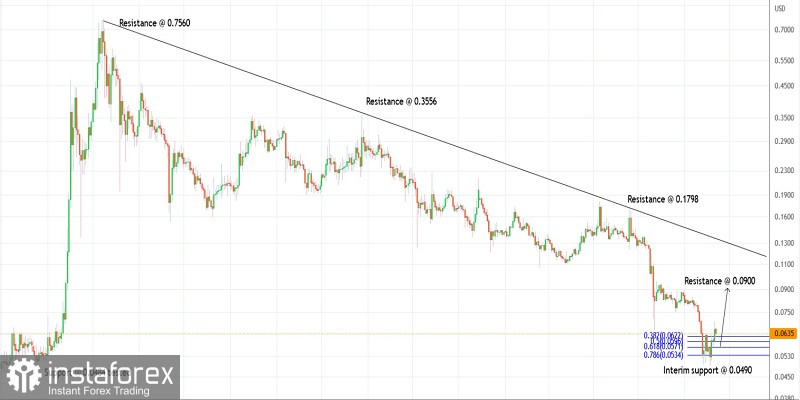 Technical outlook:
Dogecoin staged an impressive rally towards $0.0700 on Tuesday before pulling back over. The crypto is seen to be trading close to $0.0635 at this point in writing and is expected to slide through $0.0575 which is the intraday/near-term support level. Bears are expected to remain in control for the next few trading sessions against $0.0700.
Dogecoin also seems to have completed its zigzag corrective structure, which had begun from $0.7560 in May 2021. The entire drop unfolded as a 5-3-5 corrective structure that terminated at around $0.0490 recently. If the suggested structure holds well, bulls will remain in control from here against $0.0490.
Dogecoin has also managed to carve a lower degree upswing between $0.0490 and $0.0700 in the past few trading sessions. Prices are pulling back for now and are expected to find support at around $0.0570, which is the Fibonacci 0.618 retracement of the above upswing. Watch for a bullish bounce thereafter.
Trading plan:
Potential short-term drop through $0.0570, then rally towards $0.0900 against $0.0490
Good luck!