Despite the recent market downturn largely attributed to FTX's downfall, Litecoin (LTC) has been moving in the opposite direction, with its price pumping by 35% over the past week, reaching a high of $81.52. This ranks Litecoin first in percentage change in price over seven days, and sixth in terms of 24-hour volume.

Source: CoinMarketCap

Source: CoinMarketCap
This price pump has significantly increased Litecoin's market capitalization, surpassing both meme coin Shiba Inu (SHIB) and Solana (SOL).

Source: CoinMarketCap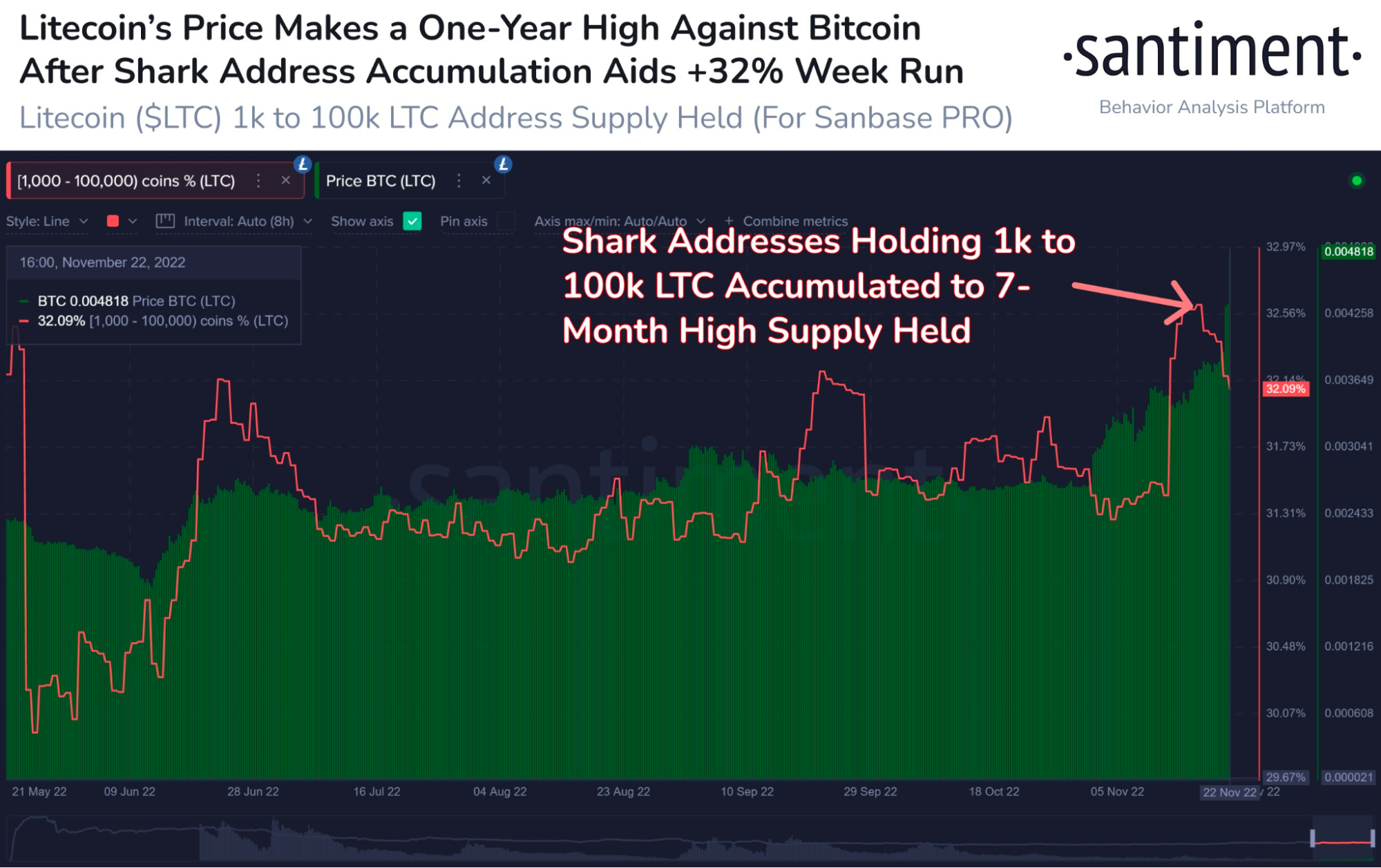 Source: Santiment
According to analytics by Santiment, this drastic rise in price and valuation of Litecoin can be attributed to increased Litecoin accumulation by whales. As evident from the chart above, addresses holding from 1,000 to 100,000 Litecoin accumulated $43.4 million of value.
Given the surge in LTC's price, is it a good investment now? In this article, we'll explain what Litecoin is, why it has remained a top crypto, the risks of investing in it and whether you should either trade or invest in Litecoin.
What Is Litecoin (LTC)?
Also widely known as Digital Silver, Litecoin is an open-source, global peer-to-peer (P2P) cryptocurrency network that allows people to send payments worldwide quickly and inexpensively. Founded on October 13, 2011, Litecoin was created as a fork of Bitcoin (BTC) to improve on three main issues faced by the Bitcoin network:
Speed: Long Transaction Times
Scalability: Frequent Network Congestion
Centralization: Concentration of Mining Pools
Litecoin was founded by former Google employee and Coinbase engineering director Charlie Lee, who decided to create a "lighter" version of Bitcoin that would allow for faster transactions and more scalability, along with lower transaction fees.
Litecoin was built to use the Scrypt algorithm with a proof of work (PoW) consensus. Scrypt is more cost- and power-efficient, and accessible, than the SHA-256 algorithm used by Bitcoin. This makes it possible for regular consumers to use Scrypt to mine Litecoin, lowering the barrier to entry for miners and enhancing the decentralization of mining power.
Litecoin Halving
With Litecoin's PoW mechanism, miners are rewarded with LTC when they complete a block. Similar to Bitcoin, the rewards for mining Litecoin decrease over time in a process known as halving. The following are the key dates for Litecoin rewards halving:
August 25, 2015: From 50 LTC per block down to 25 LTC
August 5, 2019: From 25 LTC per block down to 12.5 LTC
August 23, 2023: From 12.5 LTC per block down to 6.25 LTC
History of Litecoin
Here are the key milestones achieved by the Litecoin team:
2011: Creation of Litecoin
Charlie Lee forks Bitcoin, modifying Bitcoin's code with several enhancements.
2013: Charlie Lee Joins Coinbase as Engineering Director
Litecoin experiences positive price action, soaring by 10x from $3 to $30 when the news is released.
2017: Technological Advancement
The adoption of SegWit and the Lightning Network layer further enhance Litecoin's
2017: Controversy
Charlie Lee sells all of his Litecoin holdings in December, coinciding with the time Litecoin peaks in price, undermining the faith of investors and creating speculation about Lee's potential manipulation of Litecoin prices. However, Lee clarifies that he acted over concerns of his growing influence on Litecoin, which could lead to a conflict of interest. More details can be found
Price History of Litecoin
Here's a timeline of Litecoin's price action since its launch.
2011
Launched just two years after Bitcoin, Litecoin quickly gains followers and reaches a high of $0.30.
2013
In Q4, Litecoin experiences a price increase of 1,000%, reaching an all-time high of $44.53.
2014 – Mid 2017
After the euphoria of a 1,000% price increase, the price of Litecoin drops significantly over the next three years, trading below $5 and reaching a low of $1.38.
Mid 2017 – End 2017
In April, Litecoin's price finally manages to surpass the $5 mark and skyrockets to a high of $319.26 in December, an increase of over 6,000%.
End 2017 – End 2020
The price surge is once again unsustained, and as the cryptocurrency market crashes in 2018, LTC's price plunges to between $20 and $130 over the next two years with many cryptocurrencies experiencing the same fate.
2021
LTC manages to reach an all-time high of $345.30 in May 2021, breaking the previous high of the 2017 bull market.
2021 – Current
Given the approaching bear market and poor macro conditions, the cryptocurrency market as a whole takes a beating, with LTC's price also in a downturn since its all-time high.
How Litecoin Remains a Top Crypto Even After a Decade
Having existed for a decade, Litecoin's valuation still remains within the top twenty cryptocurrencies in the market. As a matter of fact, with its recent surge in price, it's managed to make its way to the top fifteen. There are still growth opportunities, given its technical potential and the leadership of Charlie Lee, who possesses great technical expertise.
Following are some of the unique advantages effected by Litecoin that could potentially make LTC a good investment.
Higher Scalability
Litecoin generates blocks every two and a half minutes, which is four times faster than Bitcoin's block mining time of ten minutes. As such, Litecoin's network is able to achieve greater throughput.
Faster Transaction Speed
Litecoin has a transaction processing speed of 54 TPS, which is markedly higher than Bitcoin's transaction processing speed of 5 TPS.
Decentralization
Scrypt is used to power Litecoin's PoW consensus mechanism, giving the network a lower barrier to entry and allowing more individuals to participate in Litecoin mining. This contributes to the network's decentralization, given that mining power is no longer concentrated among bigger players who can afford mining.
Lower Transaction Fees
Litecoin has a fee structure 1/50th the size of Bitcoin's, which significantly reduces transaction costs.
Privacy Function
The Litecoin Improvement Proposal of November 2019 included the MWEB (Mimblewimble Extension Block) update, which would improve anonymity for both senders and receivers of transactions on Litecoin's network.
Now, with the majority of nodes having given their permission, MWEB is finally available. Activated on May 19, 2022, this upgrade has brought substantial privacy feature enhancements to the Litecoin network. Transactions can be kept private while they're getting verified. With MWEB, users can opt in as necessary to conduct private transactions, and transaction anonymity is guaranteed — so that the transaction amounts are only known to the sender and receiver.
Moreover, MWEB is more comprehensive than its recently implemented privacy measures for Litecoin users alone. MWEB also makes significant advancements to blockchain operations. For instance, its cut-through capability assists in removing all unnecessary transaction data from blocks so that long transactions are condensed into a single one. In other words, the block only records one input-output pair, eliminating the need to record each input and output separately. This contributes to network efficiency.
Widespread Usage
3,070 businesses accepted LTC as payment in January 2022, a relatively large number. Due to its quick adoption, Litecoin has become one of the most popular cryptocurrencies for investments with practical uses. The Litecoin Foundation asserted in January 2022 that Visa would permit owners to use the Litecoin Card to spend Litecoin. Coinbase, BitPay, NOWPayments, CoinGate, Alliant and CoinPayments are examples of cryptocurrency-native payment processors that accept Litecoin payments. Online retailers can accept Litecoin payments through e-commerce systems such as Shopify and WooCommerce.
Good Traction
In 2021 and 2022 the Litecoin team has hit multiple milestones.
In 2021, Litecoin saw the introduction of the OmniLite token creation platform, which enables developers to build NFTs and construct their own bespoke cryptocurrencies on the network.
Liteverse, the first NFT marketplace on the Litecoin network, was introduced in 2022. A Litecoin-based Lightning Network mobile wallet, as well as user-friendly MWEB-integrated mobile wallets, have also been announced by the developers.
Given the abovementioned properties of Litecoin as a blockchain and the developments they've accomplished within the past two years, one can argue that Litecoin is indeed a cryptocurrency to invest in.
Is Litecoin a Good Investment?
Despite the pros of Litecoin as mentioned in the previous section, there still remains risks to investing in it. The privacy function mentioned above serves as a double-edged sword for Litecoin, having also attracted negative attention.
Despite the excitement surrounding transaction confidentiality that Litecoin has introduced with Mimblewimble, problems have appeared on the regulatory front, particularly with regard to Know Your Customer (KYC) and anti-money laundering (AML) rules.
On June 8, 2022, just a short while after Litecoin's official launch of the MWEB protocol, five leading South Korean exchanges — Upbit, Bithumb, Coinone, Korbit, and GOPAX (now closed) — delisted Litecoin. Following the implementation of strict regulation and an outright ban on Dark coins by regulators in 2020, South Korean exchanges have avoided privacy-related cryptocurrencies.
Should You Trade or Invest in Litecoin?
You can choose to purchase Litecoin and keep it as an investment item in your wallet. If price changes are significant, owning this virtual currency will give you a chance to gain from capital appreciation. Holding Litecoin for an extended period may also pay off nicely as its price reaches new heights whenever Bitcoin soars.
Otherwise, you can choose to trade Litecoin with either spot or derivatives trading, each of which can accommodate long and short positions.
To learn whether investing or trading is better suited to you, check out our article here.
How Much Should You Invest?
The number one rule for all crypto investment is not to invest more than you can afford to lose. This applies whether you're a beginning or advanced trader. Also, diversification is a well-known practice — such as investing no more than 10% of your portfolio in any altcoin.
When applied to trading, the main rule is straightforward: Never trade more than 1% of your capital in a single transaction. Stick to this rule, and your funds will be protected.
Where to Trade or Invest in Litecoin
You can buy Litecoin on most cryptocurrency exchanges to hold for an extended period. However, you can also trade perpetual contracts to speculate on LTC, with a predetermined price at a specified time in the future.
For instance, Bybit offers both the LTC/USDT Spot pair and LTCUSDT Perpetual contracts. You can buy LTC with the USDT stablecoin via a Perpetual contract with leverage. Simply fund your verified account with USDT, or convert another cryptocurrency to USDT.
Be sure to also take advantage of Bybit's ongoing zero fees campaign for all Spot pairs, and trade LTC/USDT without any fees.
Sign up for a Bybit account now and start trading!
Closing Thoughts
Overall, there are multiple factors that contribute to the value of Litecoin. Other than the faster, more scalable and decentralized design of the blockchain itself, Litecoin has also achieved significant traction with regard to adoption and usage.