Relevance up to 14:00 UTC+2 Company does not offer investment advice and the analysis performed does not guarantee results. The market analysis posted here is meant to increase your awareness, but not to give instructions to make a trade.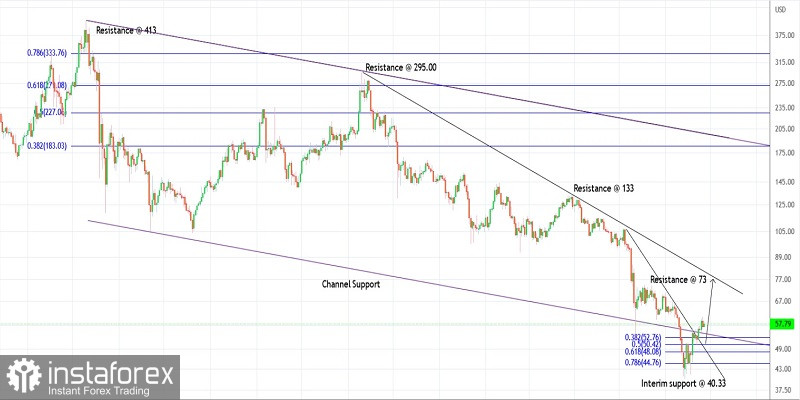 Technical outlook:
Litecoin has further raised through $60.00 highs over the weekend before finding resistance and easing off. The crypto is seen to be trading close to $57.00 levels at this point in writing and is expected to push through $73.00 in the near term. Bulls are looking poised to hold prices above $40.33interim low to keep the near-term structure intact.
Litecoin has been dropping since May 2021 after registering all-time highs around $413 levels. The drop has been correcting and has taken shape of a zigzag terminating around $40.33 recently. Notably, prices have crawled back above the channel support, which is constructive for bulls going forward.
Litecoin has further managed to carve a lower degree upswing boundary between $40.33 and $60.00 levels in the past few trading sessions. The rally might continue from current levels or produce a corrective drop towards $48.00 before resuming higher. Either way, traders might be preparing to hold long positions from here.
Trading plan:
Potential rally through $73.00 against $40.33
Good luck!