Miners sold BTC in June to help sustain operations. ETH options implied vols drifting lower. ETH perps funding rates turning positive.
Chart of the Week: Miner Capitulations in June
A slew of publicly listed Bitcoin miners has released June 2022 operating results. Some miners had to sell significant portions of their Bitcoin holdings to help sustain operations as sinking Bitcoin prices, rising energy costs, and increased competition erode profitability. Most notably, Core Scientific (NASDAQ: CORZ) and Bitfarms (NASDAQ: BITF) sold 78% and 51% of their positions, respectively. Continued selling by miners would contribute to downward pressure on the BTC price.
However, there were other miners such as Marathon Digital (NASDAQ: MARA) and Hut 8 Mining (NASDAQ: HUT), that fared better in June, as both were able to hold on to their Bitcoins.
Fund Flow Tracker
Aggregated exchange balance for BTC has fallen since mid-June 2022, while that of ETH's increased. However, the past week saw balances for both BTC and ETH dip, as there were net outflows of -37.3K for BTC and -544.6K for ETH. BTC balance held on OTC desks also fell during the past week.
Derivatives Pulse
Options implied volatilities (vol) for BTC and ETH are drifting lower, and term-structure has flipped back to normal (i.e. upward sloping). 1-week implied vol currently stands at 66.5% (vs. 81.9% a week ago) and 81.0% (vs. 106.5% a week ago) for BTC and ETH, respectively.
ETH's put-call ratio has bounced up since end-June 2022, while BTC's has rolled over and started to fall.
Options skews declined for both BTC and ETH during the past week, implying less bidding intensity for puts versus calls.
Perpetual futures funding rates turned positive for both BTC and ETH, suggesting a shift back to long-positioning.
Leveraged traders' (i.e. speculators) net-short position in CME Bitcoin futures has seen a reduction since mid-May 2022.
Leveraged traders are typically hedge funds and various types of money managers, including commodity trading advisors and commodity pool operators. The traders may be engaged in managing and conducting proprietary futures trading, and trading on behalf of speculative clients.
The asset manager category consists of institutional investors, including pension funds, endowments, insurance companies, mutual funds, and those portfolio/investment managers whose clients are predominantly institutional.
The dealer category consists of participants typically described as the "sell-side" of the market. These include large banks and dealers in securities, swaps, and other derivatives. The other reportable category consists of traders mostly using markets to hedge business risk, and includes amongst others corporate treasuries.
Technically Speaking
BTC regained US$21,000 recently (although has dipped back under at time of writing). We take a look at the Fibonacci retracement levels again for some resistance areas to potentially trade in the direction of the current dominant trend (which is still downwards for BTC). The Fibonacci levels and corresponding BTC prices (in brackets) are: 0 (US$17,567), 0.236 (US$21,064), 0.382 (US$23,227), 0.5 (US$24,975), 0.618 (US$26,724), 0.786 (US$29,213), 1 (US$32,383).
Price Movements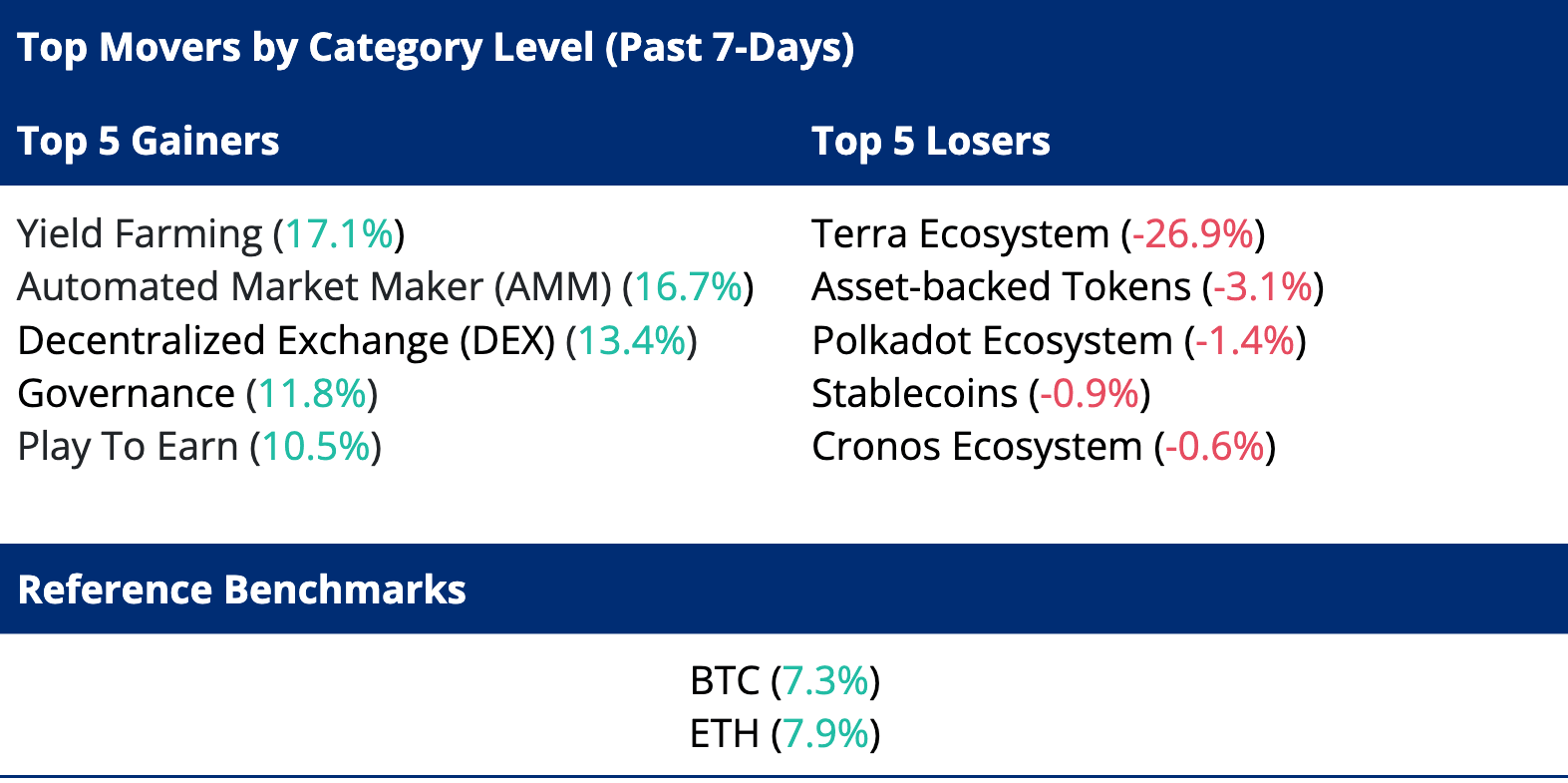 News Highlights
Total non-farm payroll employment in June rose by 372K, and the unemployment rate remained at 3.6%. The optimistic jobs report provides leeway for policy rate hikes, to help tackle the issue of rising prices. U.S. CPI is expected on 13th July (0830hrs Eastern Time).
Celsius Network paid down the remaining amount of its loan in DAI on Maker.
Against a backdrop of poor market environment and reduced asset prices, Bitcoin (BTC) miner Marathon Digital (NASDAQ: MARA) reported that the company sold no BTC in Q2 2022 and has had no BTC sales since October 2020. The company mined 707 BTC in Q2 2022, up 8% year-over-year, bringing its total holdings to 10,055 BTC.
Catalyst Calendar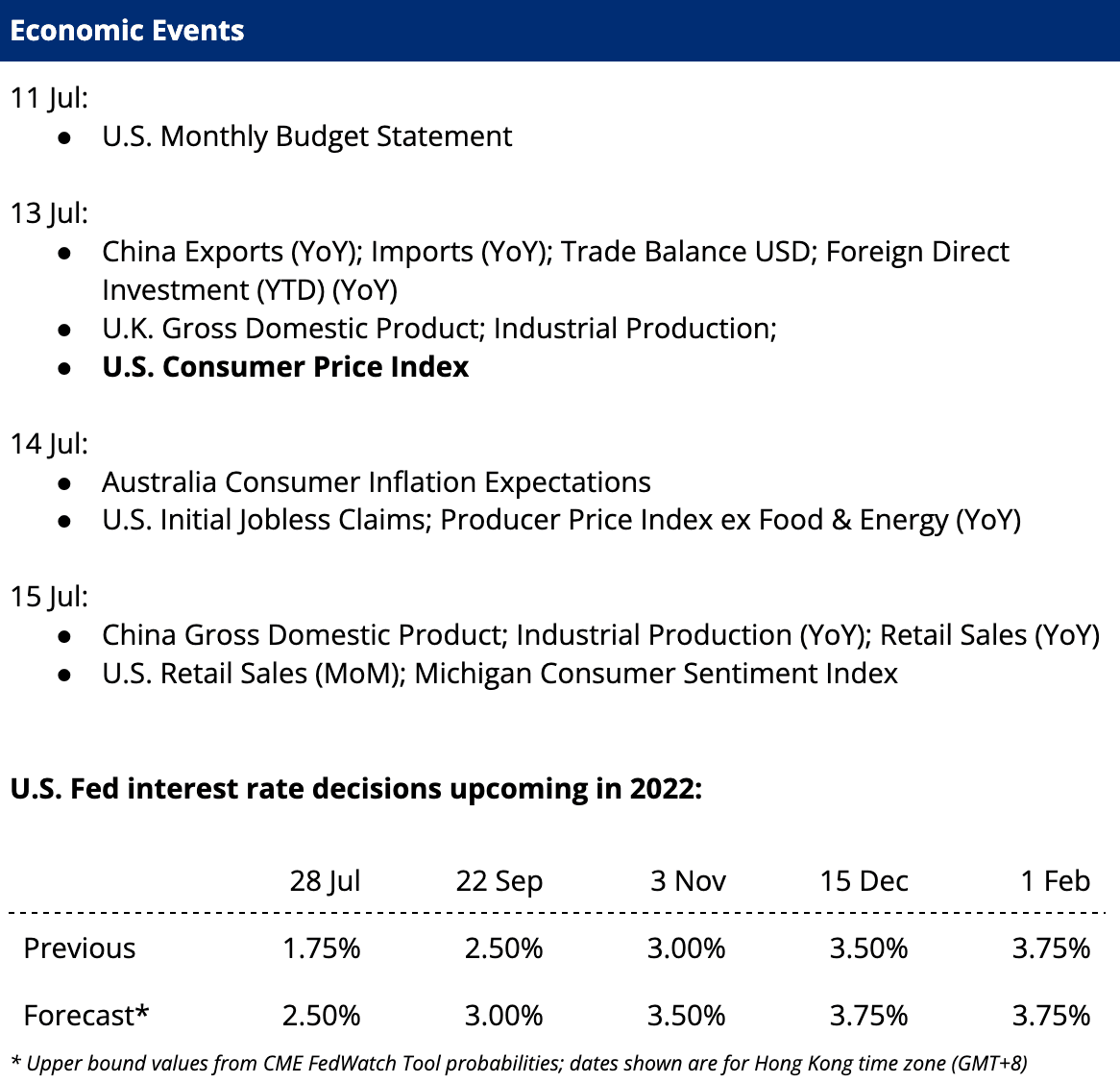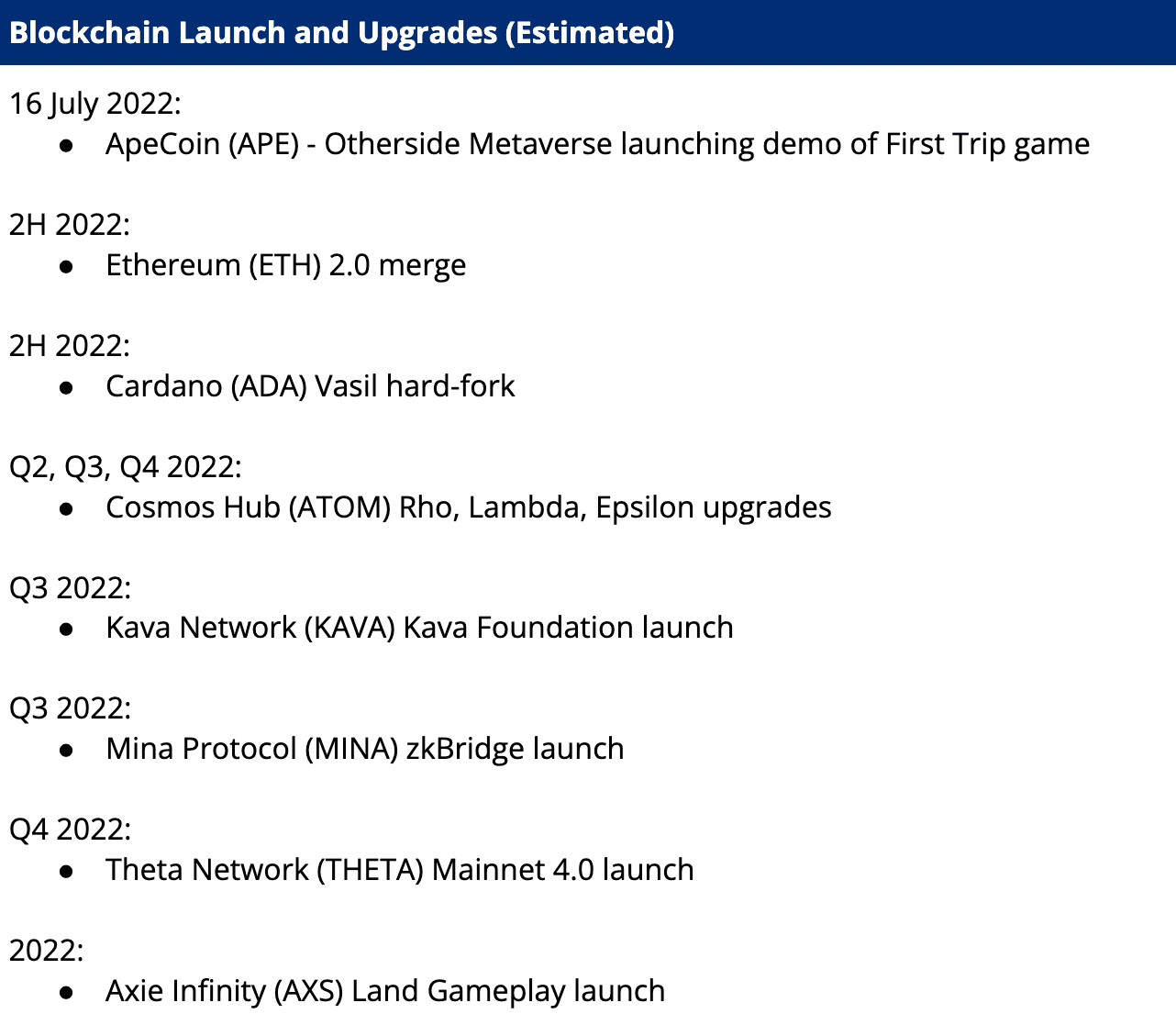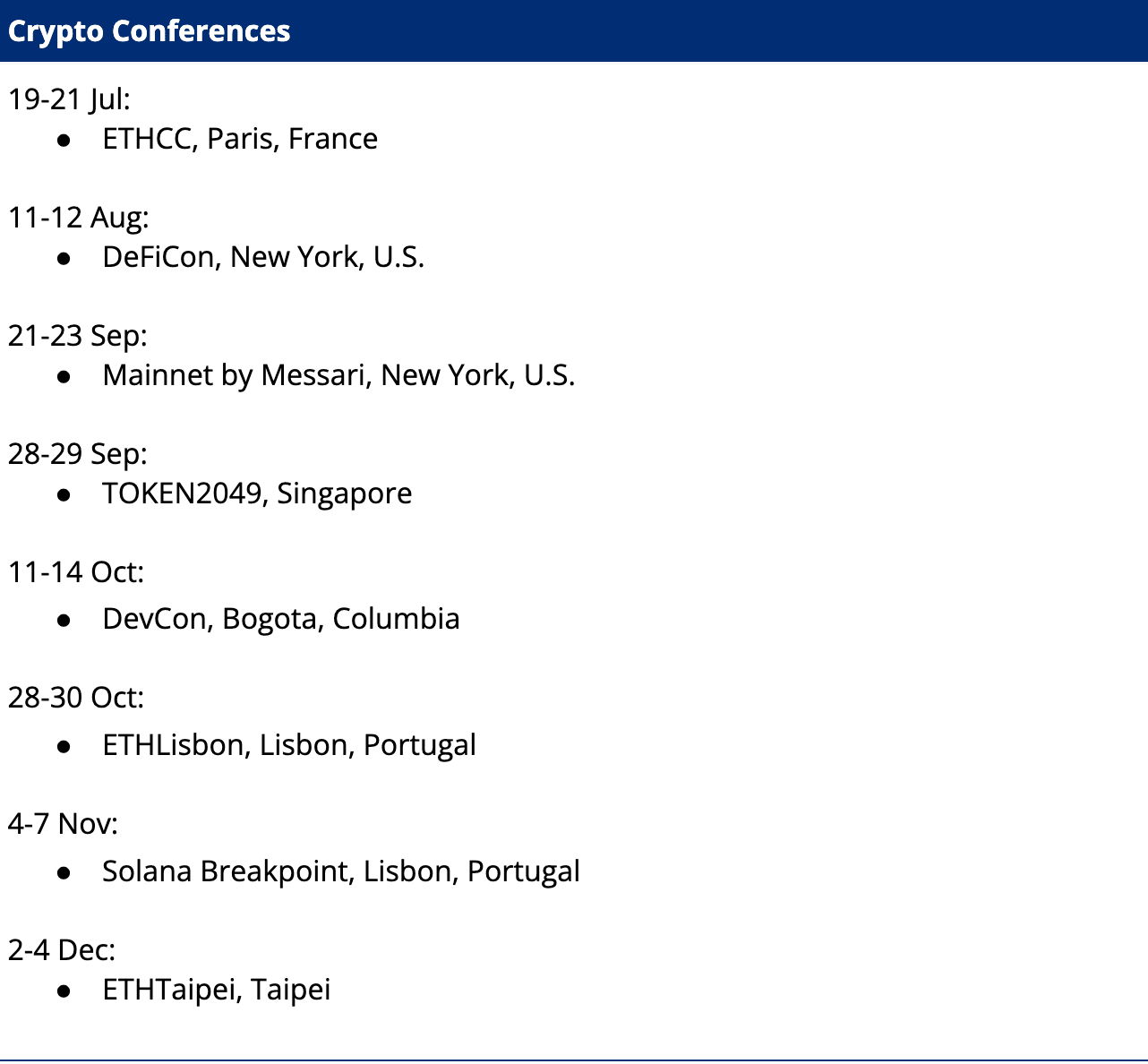 Author
Crypto.com Research and Insights team
Disclaimer:
The information in this report is provided as general market commentary by Crypto.com and its affiliates, and does not constitute any financial, investment, legal, tax, or any other advice. This report is not intended to offer or recommend any access to products and/or services. While we endeavour to publish and maintain accurate information, we do not guarantee the accuracy, completeness, or usefulness of any information in this report nor do we adopt nor endorse, nor are we responsible for, the accuracy or reliability of any information submitted by other parties.
This report is not directed or intended for distribution to, or use by, any person or entity who is a citizen or resident of, or located in a jurisdiction, where such distribution or use would be contrary to applicable law or that would subject Crypto.com and/or its affiliates to any registration or licensing requirement.
The brands and the logos appearing in this report are registered trademarks of their respective owners.