Relevance up to 10:00 2022-08-12 UTC+2 Company does not offer investment advice and the analysis performed does not guarantee results. The market analysis posted here is meant to increase your awareness, but not to give instructions to make a trade.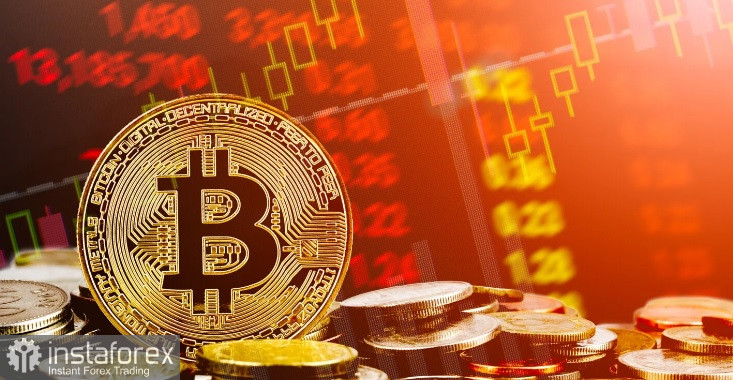 Bitcoin reacted to the CPI print by climbing 5.1% to $24,180
After the US Consumer Price Index (CPI) rose 8.5% year-on-year, cryptocurrency prices surged. While inflation has remained at one of its highest levels in decades, the actual data came in below the expected 8.7%, prompting traders to return to the markets.
Bitcoin reacted to the CPI print by climbing 5.1% to $24,180, where it hit a solid bearish resistance wall that remains the last significant barrier ahead of $28,000. If today it closes higher, it will go further.
Traders breathed a sigh of relief after the release, which came in 0.2% below expectations as it could potentially lead to a less aggressive Fed rate hike schedule.
Federal Open Market Committee (FOMC)
At the last two meetings of the Federal Open Market Committee (FOMC), the central bank has raised interest rates by 75 basis points each time, and yesterday's decline in the CPI compared to the previous month was the first evidence that the actions taken by the central bank are beginning to bear fruit.
The positive reaction to the lower-than-expected CPI was immediate, with prices in the cryptocurrency market and traditional markets rising following the news.
And growth will likely continue, at least next week.
What's Ahead Of Bitcoin?
What will happen next with Bitcoin, the cryptocurrency market, and global financial markets, in general, largely depends on the further actions of the Fed.
In the broader altcoin market, there has been an even more pronounced reaction following the release of the CPI yesterday. Several of the top 200 coins posted double-digit gains, while the top altcoin, Ether (ETH), gained almost 9%.
Crypto Market Capitalisation
The total market capitalization of cryptocurrencies is currently at $1.14 trillion, and the Bitcoin dominance rate is 40.3%.