Relevance up to 13:00 UTC+2 Company does not offer investment advice and the analysis performed does not guarantee results. The market analysis posted here is meant to increase your awareness, but not to give instructions to make a trade.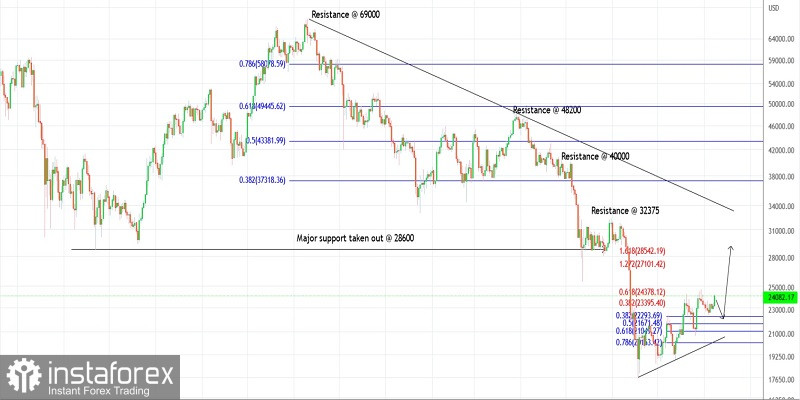 Technical outlook:
Bitcoin rose to $24,200 intraday on Monday before easing off. The crypto is seen to be trading close to $24,050 and expected to drag towards the $22,200-300 zone before resuming its rally. Bears seem inclined to complete the Up Gartley at around $22,200 before giving in to the bulls again. The bottom line is that prices should stay below the $24,500-600 interim resistance for now.
Bitcoin has been producing a counter-trend rally from the $17,500 lows as seen on the daily chart. The counter-trend is expected to reach at least $29,400-500 before terminating, if not further. Please note that the potential remains for a push through the $48,000-500 zone as well, which is the Fibonacci 0.618 retracement of the drop between $69,000 and $17,500.
Bitcoin is currently working on a lower-degree upswing between $20,700 and $24,450. The Fibonacci 0.618 retracement of the above swing is seen at around $22,200-300 which is seen as strong support. Prices are expected to drag lower from here and then resume a rally as depicted on the chart here. Potential upside targets are the $29,400-500 levels.
Trading plan:
Potential rally through $29,400-500 against $17,500
Good luck!