Relevance up to 17:00 2022-07-07 UTC+2 Company does not offer investment advice and the analysis performed does not guarantee results. The market analysis posted here is meant to increase your awareness, but not to give instructions to make a trade.


On the BTCUSD chart, a support level in the area of $18900 has clearly emerged over the past few days. However, volatility remains low, which is keeping the market on edge.
Technically, even if the 18,900 level remains as support, a significant recovery is unlikely. The closest target for a recovery is now near $22,000.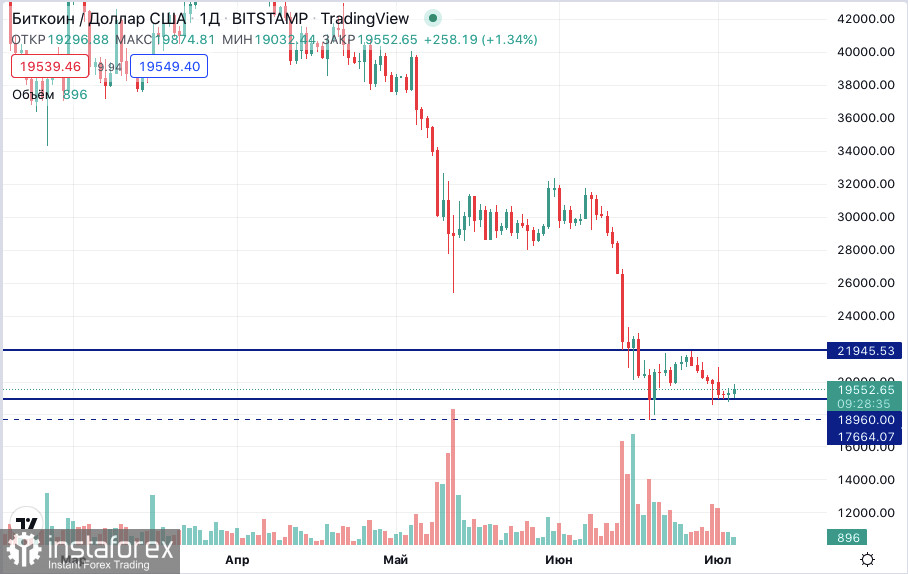 This dynamic of the major cryptocurrency clearly shows that there is not enough long or even short positions in Bitcoin's trading. This leads to a lack of volatility in the market. However, this kind of consolidation and extremely low volatility sometimes causes big movements in the market, which everyone is now expecting.
Following the massive cryptocurrency crash in June, most market participants were scared of trading assets such as Bitcoin. So, they immediately closed most of their positions to avoid further losses.
Lack of volume in the market is the main reason for the main cryptocurrency's sluggish performance. BTCUSD has lost just under 5% of its value since June 21, while it was up about 5% on June 25.
Without volatility, almost any significant outflow or inflow of funds into the market can cause a crash or a strong rally, because when the momentum is reduced, there is usually a reduction in liquidity, which is the main instrument for regulating stability of the market.
As the weekly average volatility of BTCUSD remains at around 5%, the market should expect a short- to medium-term spike in momentum, which could push Bitcoin in both directions.
Notably, today the US is on holiday and volatility could increase as early as Tuesday if there are significant increases in liquidity and new drivers. There is no good news on this issue. At the same time, there is some worrying news.
On July 4, cryptocurrency broker Vault announced that it would immediately suspend withdrawals, trading, and deposits on the platform due to volatile market conditions and the impact on key business partners.
The statement also mentions that users have withdrawn $197.7 million since June 12 due to growing concerns about CeFi lenders on the same day Celsius announced similar actions to "stabilize liquidity and operations."
At this stage, it is unclear whether Vauld has bad debts and is facing default or margin calls it cannot meet.
Vauld said it had hired a team of advisors to explore the possibility of restructuring the company to protect stakeholders' interests.
A message from Vauld co-founder Darshan Bathija via the company's Twitter account reiterated the intent to find "the best resolution for our customers."
On June 16, when the Celsius saga was just beginning to flare up, Vault tweeted it was a business, implying that his "balanced and conservative approach" and "fundamentally strong strategies" served him well.
The accompanying blog post stated that Vauld was not related to Three Arrows Capital or Celsius and remained fairly liquid.
Days later, on June 21, Vauld announced a 30% cut in its workforce, according to Money Control. The cuts would primarily affect marketing and talent acquisition functions. However, laid-off employees will receive two months' salary, 12 months of health insurance and assistance in finding a new job.
Commenting in general terms on the problems companies have faced because of the Terra/Luna collapse and the fall in prices on the crypto market, Binance founder Changpeng Zhao (CZ) said VC-funded platforms tend not to have established "real business model[s]."
Notably, Vauld raised $25 million in a Series A funding round led by Valar Ventures, with Coinbase Ventures participating, in July 2021. Other prominent VC investors in the firm include Pantera and Robot Ventures.
In recent days, there have been reports from crypto experts that the crypto market is approaching its bottom of the bear cycle.A well-known crypto economist Alex Kruger reported recently that bitcoin is shining a signal that has historically marked a bottom not just for BTC, but for all asset classes as well. Kruger noted that he was closely watching the total volume of bitcoin, which covers both the spot and perpetual markets across all exchanges.
According to the economist, many bitcoin investors surrendered weeks ago after total volume of BTC hit a new all-time high.Kruger also stressed that Bitcoin has bottomed out in the past two years after its volume soared to record highs.
As per the strategist analysis, the volume during the weeks of March 12th, 2020 (2020 bottom) is the second-largest recorded. The third is during the week of May 19th, 2021, and the fourth is during the week of June 21st, 2021 (2021 bottom). Next, the fifth was in the week of May 2022 (Luna Apocalypse).
The economist highlights that the aggregated volume of BTC tracks the number of coins that changed hands instead of denominating it in the US dollar. According to Kruger, denominating volume in BTC makes it comparable across time.
While Kruger says that BTC may already be in the process of forming a bottom, he notes that the leading digital asset is unlikely to rally any time soon.
Technically, Bitcoin is trying to hold above the June lows. But the main problem is that the fundamental backdrop remains unfavourable for a recovery. It is difficult to forecast drivers for bullish momentum in the near term. That said, a recovery into the $22,000 per coin area is possible.
In addition, Vauld's problems at the opening of the US session on Tuesday could drop the BTCUSD price, being bad news and a signal that the domino effect among cryptocurrencies could have a continuation.
A strong signal of BTCUSD falling into the $14,000 area would be a renewal of the June lows and a consolidation under this border.