Relevance up to 10:00 2022-08-14 UTC+2 Company does not offer investment advice and the analysis performed does not guarantee results. The market analysis posted here is meant to increase your awareness, but not to give instructions to make a trade.


Strong statistics on American employment crossed out the hopes of pessimists for an early recession. Stock markets are growing by leaps and bounds, safe-haven assets are being sold, but the fall in oil suggests that not everything is so simple. Black gold still does not rule out a recession in the global economy. The 24% collapse of Brent from the levels of June highs is associated with fears about a slowdown in global demand. Fears that supply could increase due to Iran pushed the North Sea grade below $100 a barrel.
According to Goldman Sachs, normalizing supply chains and eliminating other one-time factors will reduce US inflation to 4%, but after that, there will be a lot of excess heat in the economy, which will be very difficult to eliminate. The Fed will be forced to raise the federal funds rate above 4% and hold it there longer than currently expected. This will trigger a recession, but later. Probably in 2023. The oil market remains in an unsustainable deficit at current prices. They are too low to significantly reduce demand. The bank is forecasting Brent to rally to $110 in the third quarter.
Dynamics of the stock market and oil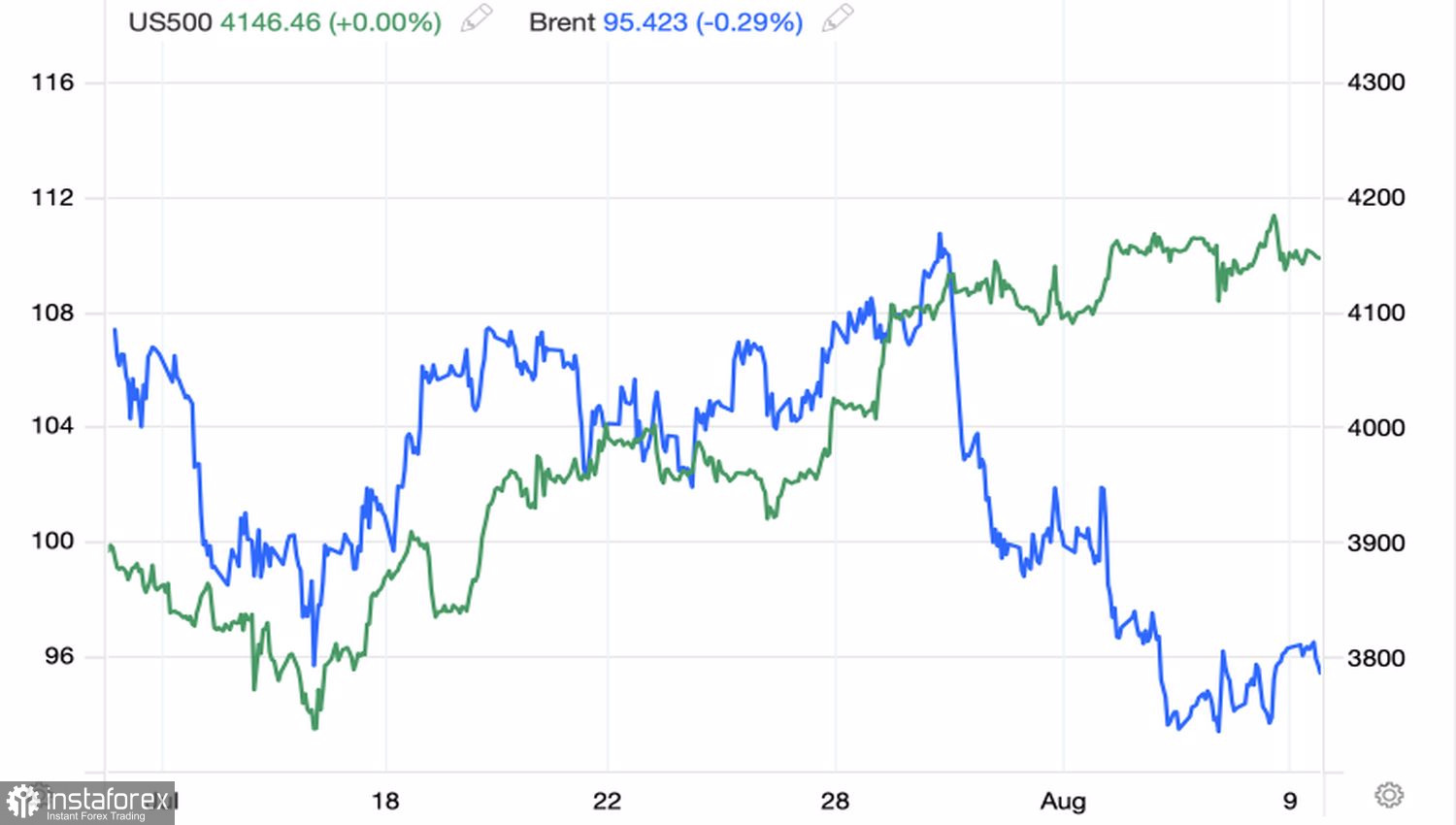 Fears that consumption will not be as strong as expected really dropped the futures quotes very much. The black gold market is on the verge of transition from a "bullish" conjuncture, backwardation, to a "bearish" contango. Spreads between nearby contracts narrowed over the week from $1.9 to $1.54 per barrel.
In my opinion, a significant share of the negative about global demand has already been priced in, and factors such as a strong labor market, falling gasoline prices in the US, which will increase interest in buying cars and oil products, as well as the growth of Chinese oil imports to 8.79 million b/d, more than June's 4-year low, gives hope to Brent bulls.
Another thing is that the supply may increase. Investors are actively discussing the possibility of a deal between the West and Iran, which is ready to throw an additional 1.5 million b/d of exports on the market, equivalent to 1.5% of world supply. This factor has so far been ignored by the market, so the signing of the agreement will be a real blow to fans of the North Sea variety.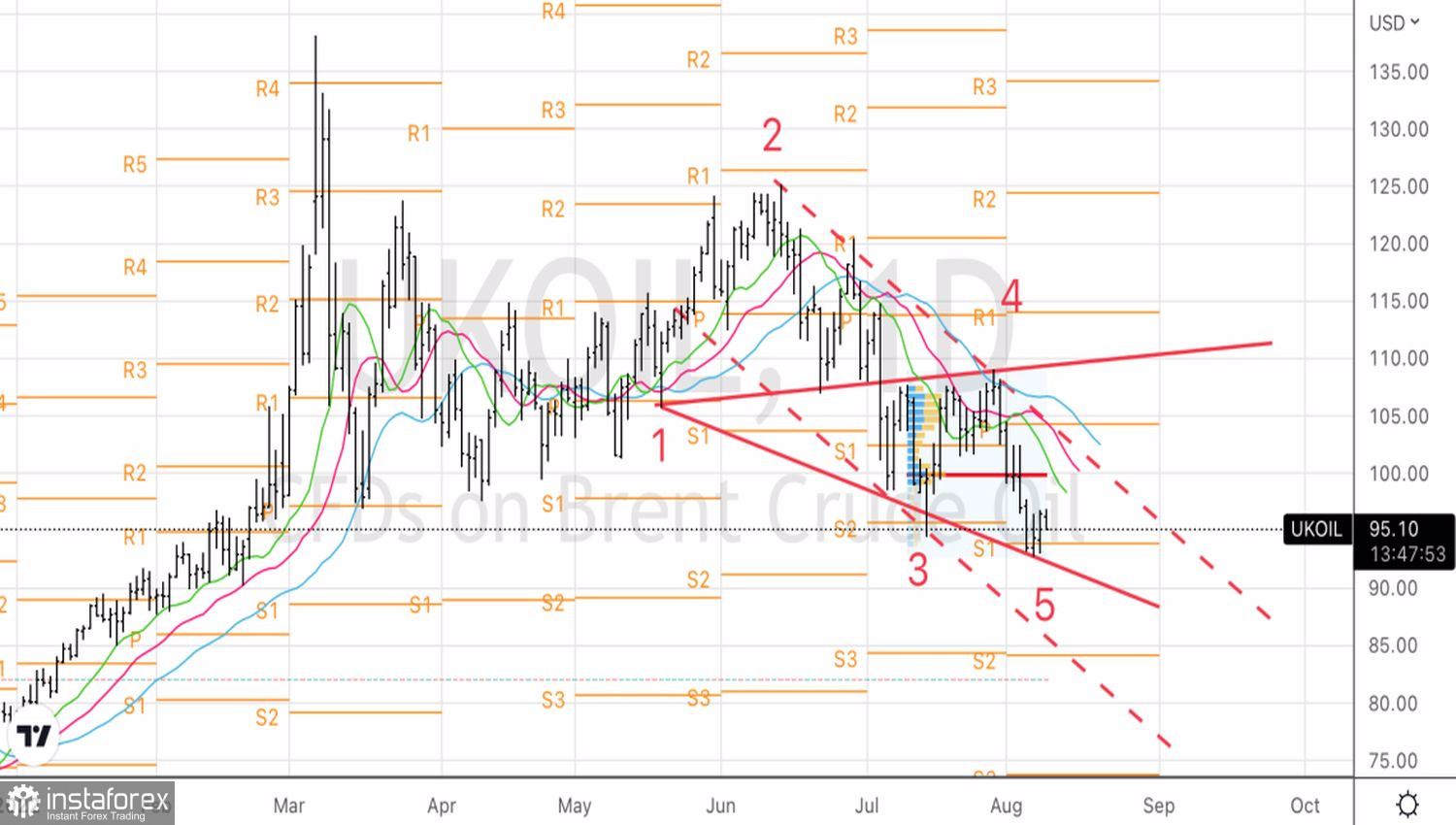 As for ousting Russia, investors seem to have gotten used to the idea that this is unrealistic. Moscow is reorienting the flow of black gold from West to East. China and India accounted for 41.4% of Russian exports in July 2022 compared to 21.7% of the same month last year. At the same time, the appetites of Beijing and Delhi are beginning to fall—in the second month of summer, China purchased 843,000 b/d of oil from the Russian Federation, while in June and May, this figure reached 1.33 million b/d.
Technically, a Wolfe Wave pattern was formed on the Brent daily chart. We take profits on the shorts formed on the rebound from $102.4 and use the rebound from the $89–91 convergence zone or break through the resistance at $97.2 per barrel for purchases.