Summary: Our weekly Commitment of Traders update highlights futures positions and changes made by hedge funds and other speculators across commodities and forex up until last Tuesday, May 17. A week where risk sentiment continued to swing between hot and cold, long end bonds held steady while the dollar showed signs of topping out. The commodity sector rallied strongly with gains in energy, grains and softs more than offsetting fading weakness in precious metals
---
Saxo Bank publishes weekly Commitment of Traders reports (COT) covering leveraged fund positions in commodities, bonds and stock index futures. For IMM currency futures and the VIX, we use the broader measure called non-commercial.
This summary highlights futures positions and changes made by hedge funds across commodities and forex up until last Tuesday, May 17. A week where risk sentiment continued to swing between hot and cold before the S&P 500 Index recorded a 2% gain on the week, long end bonds held steady while the dollar showed signs of topping out. The commodity sector rallied strongly with gains in energy, grains and softs more than offsetting fading weakness in precious metals.

Latest across market updates on can be found in our daily Financial Market Quick Take here
Commodities
The Bloomberg Commodity Spot index jumped 5.6% on the week with risk sentiment seeing a revival supported by bouncing stocks and a softer dollar. Gains being led by energy and grains, the two strongest sectors based on current fundamentals. Most notable buying seen in crude oil, soybeans, wheat, sugar and coffee while precious and industrial metals remained challenged by the recent slump.
Overall hedge funds responded to these developments by adding length for the first time in four weeks to 13 out of the 24 major commodity futures tracked in this with the combined net long rising 4% to 1.74 million lots.
Energy: Money managers increased their bullish bets on WTI and Brent crude oil by 60k lots during a week where a tight product market, especially in the US, triggered a double digit rally in WTI while Brent returned to challenge resistance in the $115 area. The biggest weekly addition in six months lifted the combined net long in WTI and Brent to 469k lots, an 11-week high. Despite supporting price action, the ICE gas oil contract saw continued long liquidation with the net long slumping to a 17 month low at 73k lots, down 50% from the February peak.
Metals: The metal sectors share of the total net exposure shrank to a three-year low at just 2% on a combination of net short positions being held in platinum, palladium and copper together with reduced bullish exposure in gold and silver.

Speculators cut their net long in gold by 26% to an eight-month low at 54k lots while silver returned to neutral for only the second time in three years. The copper net-short stayed near a two-year high at 17.2k with short-covering being offset by long liquidation as the price rose by 2%. Highlighting the need for an even bigger bounce in order to force a change in the current weak sentiment towards copper and the industrial sector in general. The same goes for gold, which in order to turn more investor friendly, will need to break the next significant hurdle at $1868, the 38.2% retracement of the recent 210-dollar correction.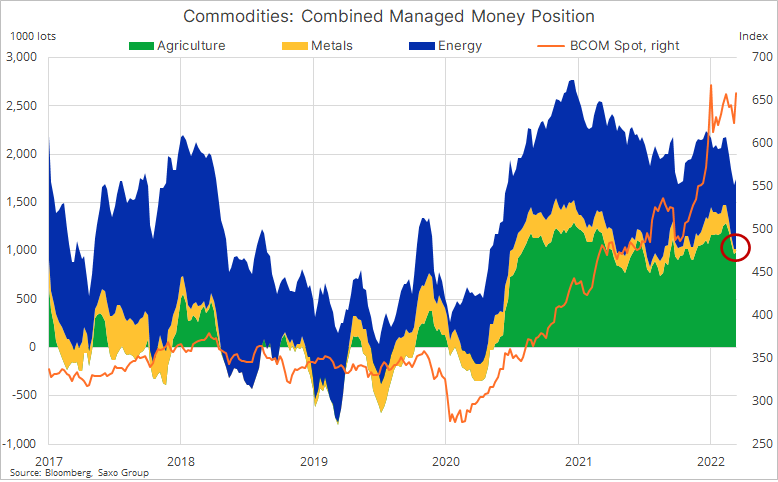 Agriculture: In grains, the net long in Chicago wheat jumped by 71% to 26k lots, a 14 month high, after the price surged by 17% in response to US crop worries and after India's export ban jolted the market. The soybean complex was mixed with buying of soybeans being offset by selling of meal and oil. In softs, funds increased their Arabica coffee net long by 51% to 29k lots, driven by short-covering, as the price jumped 11.5% on frost worries. Despite persistent worries about the outlook for production in Brazil following last year's frost damage and current weather worries, the price has been loosing momentum in response to global demand worries.
Forex

In fx, speculators maintained an unchanged dollar long position in a week where profit taking reigned as the greenback lost ground against all the currencies tracking in this update. Overall the changes were very modest with net selling of the commodity currencies being offset by MXN and another week of euro buying. These changes effectively left the aggregate dollar long against nine IMM currency futures and the Dollar Index unchanged on the week at $22.9 billion.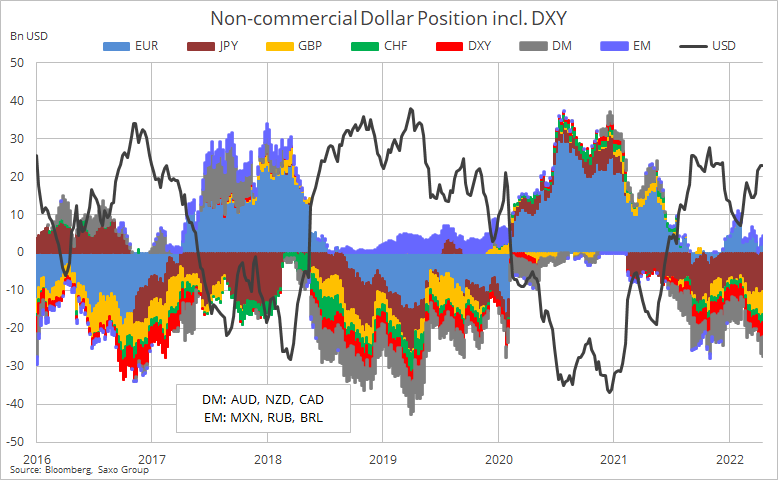 What is the Commitments of Traders report?


The COT reports are issued by the U.S. Commodity Futures Trading Commission (CFTC) and the ICE Exchange Europe for Brent crude oil and gas oil. They are released every Friday after the U.S. close with data from the week ending the previous Tuesday. They break down the open interest in futures markets into different groups of users depending on the asset class.
Commodities: Producer/Merchant/Processor/User, Swap dealers, Managed Money and other
Financials: Dealer/Intermediary; Asset Manager/Institutional; Leveraged Funds and other
Forex: A broad breakdown between commercial and non-commercial (speculators)
The reasons why we focus primarily on the behavior of the highlighted groups are:
They are likely to have tight stops and no underlying exposure that is being hedged
This makes them most reactive to changes in fundamental or technical price developments
It provides views about major trends but also helps to decipher when a reversal is looming
Source: Saxo Bank